Step 4. Initializing Client and Config
There are still a couple more crucial steps before you're able to play the game. You will not be able to play the game correctly without following these steps, as your account will have to be registered to the client itself. This portion of the guide will also go over the config client.
The first time you launch the client you'll be prompted with the following screen to wait while the game downloads and patches.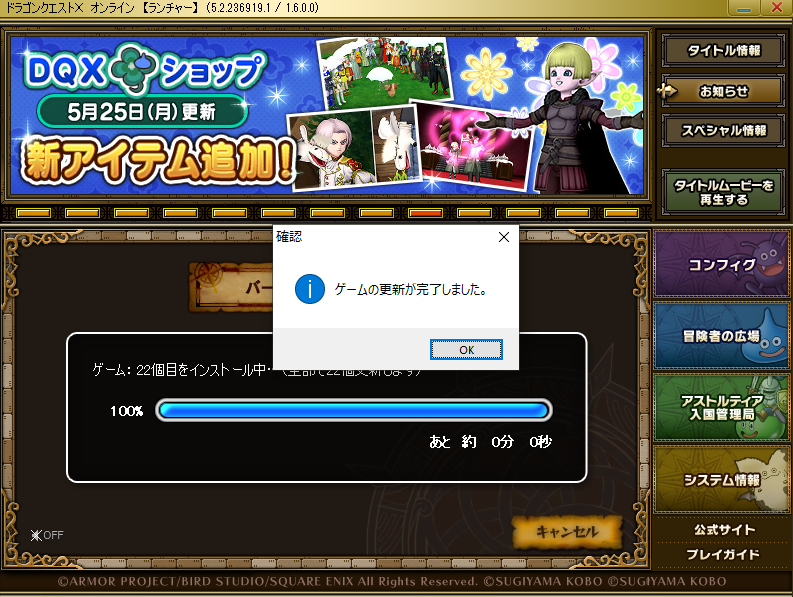 THIS WILL TAKE A WHILE. The average install time is 200-400 minutes. Your connection will be throttled. Once the download finishes, a jingle will play. Close the launcher for now.
BEFORE GOING ANY FURTHER, IT'S RECOMMENDED TO DOWNLOAD AND REPLACE THE LAUNCHER AND CONFIG EXECUTABLES WITH THEIR ENGLISH TRANSLATED VERSIONS.
Download the Translated Launcher from here and the Translated Config from here.
Once you've downloaded both of them, navigate to the install location you chose for Dragon Quest X (by default, this will be C:\Program Files (x86)\SquareEnix\DRAGON QUEST X). You will see two folders: Game and Boot.
Place the DQXLauncher.exe file inside of the Boot folder, and place the DQXConfig.exe file inside of the Game folder. These will overwrite the Japanese versions inside each folder, so it's recommended to back up both of the original files before replacing them with these English versions.
This is as far as non-US players will be able to go without setting up an appropriate VPN service. Please skip to that part of the guide now if you're not playing from the US or Japan.
Next, open up the launcher once again. There should be a DQX shortcut icon on your desktop.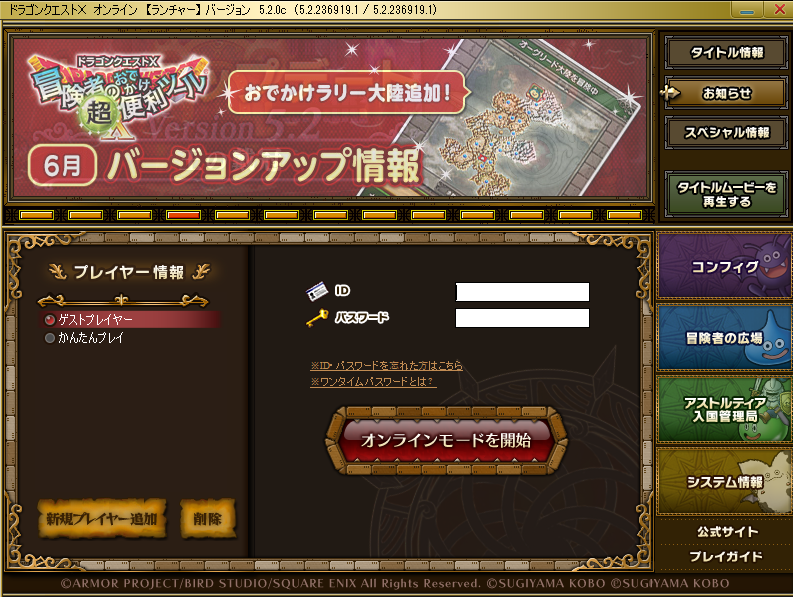 This is the main screen of the client. You might be tempted to log in immediately to start playing. Don't.
The first thing you're going to want to do is click on the button indicated in the image below: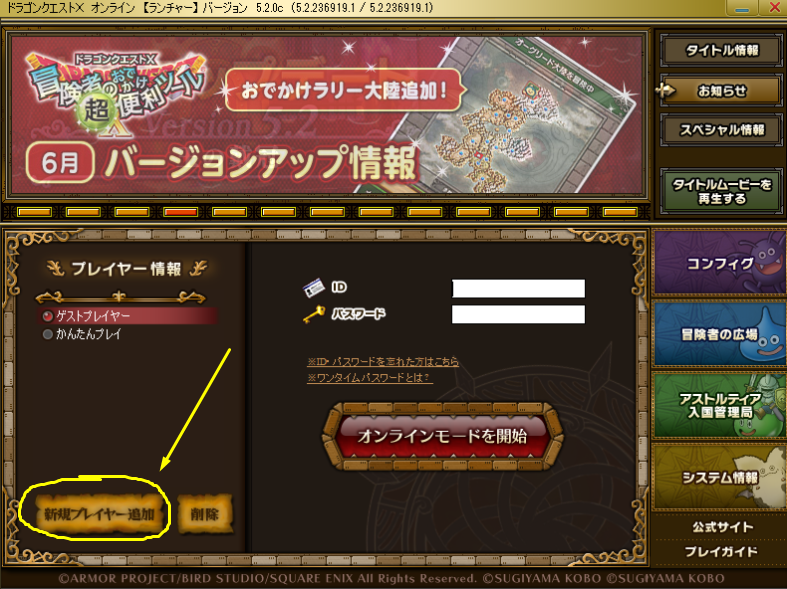 Which will bring you to the following screen: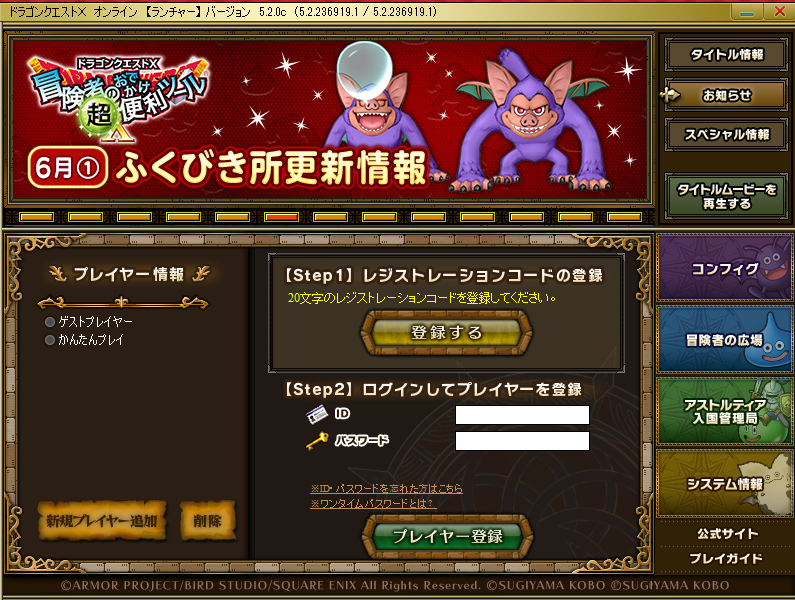 Ignore Step 1. This is registration, which by this point you should have already done. Instead, if you're ready to play (without looking at the config portion of this guide), go ahead and enter your Japanese Square Enix Account credentials and then click the green button at the bottom. This will register your account to the client.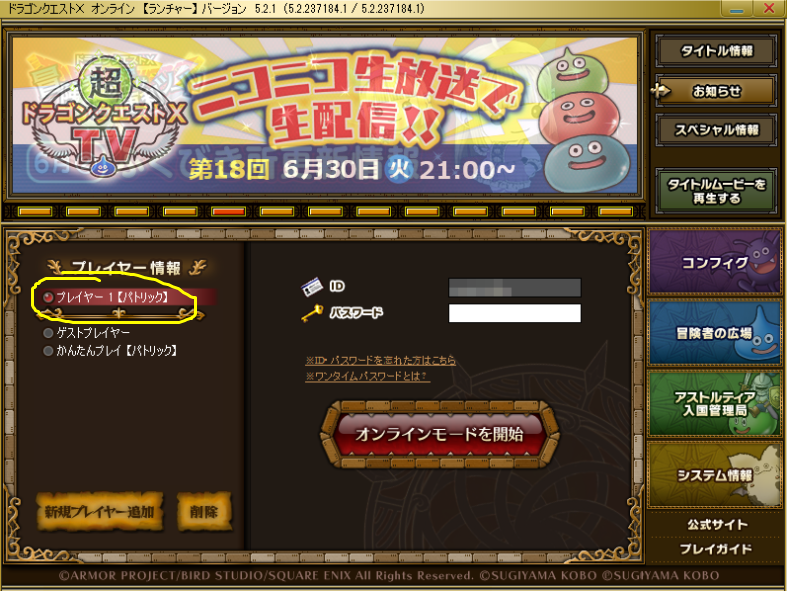 If you've done everything correctly up to this point, the game should automatically start and you will see a black box with yellow text. Don't press anything yet! (When using the launcher from now on, you should see a player profile like the one listed above. When you create a character in-game, their name should fill the brackets, signifying it's your account.)
Now that the game has launched, please go to the translation tools page for instructions on how to translate the game into English.
If you'd like to configure game settings, click the purple Dracky icon on the right side of the launcher window. More information about the config and its settings can be found from our friends over at Ethene Wiki: Configuring Dragon Quest X Settings